Kentwood D. Wells
Research Interests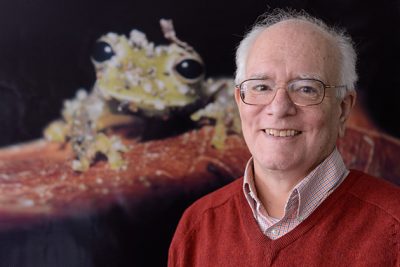 Researchers in the Wells Lab are primarily interested in animal behavior and herpetology. My main areas of interests are the social behavior of amphibians and the energetics of calling behavior of frogs. My research includes aggressive behavior in frogs, mating systems, parental care, and vocal communication.
*I will retire at the end of 2017 and I will not be taking any new graduate students. 
Contact Information
Torrey Life Sciences Building 380 (office)
Tel: (860) 486-4454
Fax: (860) 486-6364
E-Mail: kentwood.wells@uconn.edu
Department of Ecology & Evolutionary Biology
University of Connecticut
75 N. Eagleville Rd., Unit 3043
Storrs, CT 06269-3043 U.S.A.